Patch 9.1 represents lots of new features, and the most substantial among them is the new raid Sanctum of Domination. The new instance contains ten bosses on the whole with a long-anticipated Lady Sylvanas Windrunner at the end. Below you may find all the necessary information about the raid itself, the new systems, rewards, achievements, and much more. Let's begin.
Unlock Schedule
The new raid is located in a northern part of the Maw – Desmotaeron.
As usual, each difficulty level starts on its time and the schedule is the following:
July 6 – Normal and Heroic Difficulties;
July 13 – Raid Finder Wing 1 and Mythic Difficulty;
July 27 – Raid Finder Wing 2;
August 10 – Raid Finder Wing 3;
August 24 – Raid Finder Wing 4;
The minimum ilvl for entering a new raid for the LFR difficulty is 195.
Sanctum of Domination Loot Item Level
The last two bosses of the new raid will drop items, which are 7 ilvls higher than any other loot from the instance. The same system was applied in the Castle Nathria raid with two final encounters. The average ilvl for all the difficulties of a new raid is the following.
| | | |
| --- | --- | --- |
| Difficulty | Bosses 1 through 8 | Bosses 9 and 10 |
| Raid Finder | 213 | 220 |
| Normal | 226 | 233 |
| Heroic | 239 | 246 |
| Mythic | 252 | 259 |
The Great Vault Raid Objectives
The Great Vault system is updated according to the Sanctum of Domination raid. Killing bosses in this raid on any difficulty will count towards your Great Vault raid weekly objectives, where you have chances to obtain additional loot from the raid table. The conditions remain: you get a reward option for every three bosses you defeat.
Raid Skip
Phylactery Shard is an interesting and ambiguous item, which may become a possible raid-skipping technique. This item has three versions for Normal, Heroic, and Mythic difficulties and drops from Kel'thuzad. Players must collect four Phylactery Shards to be able to skip parts of the raid. Kel'Thuzad – NPC – World of Warcraft
Such an item is a helpful thing if you have experienced everything the raid has to offer multiple times and do have the majority of items you need; but what to do, if you don't want to or just can't spend lots of time in the raid? Let Epiccarry help you. Visit our site and choose the best product that will suit your needs and wants. Check the Sanctum of Domination run offers to get as many loot items as the game drops to you, a level 239 item from The Great Vault, and an achievement Sanctum of Domination.
Shards of Domination
Shards of Domination are a new gear upgrading system that relies specifically on the Sanctum of Domination armor. There are four main features represented within this new system, Shards of Domination, Domination Sockets, Rune Words, and Stygian Embers. Herein we will take a closer look at each of them.
Shards of Domination are a new type of gems, which you may find in the loot in the raid. There are 3 types of Shards (Blood, Frost, and Unholy) with a total number of 9 different Shards. Each shard has 5 ranks – the next more powerful, than the previous one. You may socket these shards only into concrete slots of concrete armor that drops only in the raid. All this makes such pieces of gear a sort of a new sight of raiding sets.
These are all nine shards, players may obtain:
Domination Sockets
Domination Sockets are a new type of sockets, which may interact only with Shards of Domination. All helms, shoulders, and chests in the raid and two more pieces of armor – different for each armor type, will have those sockets. The list of the liaisons:
Cloth armor – Bracers & Belt
Leather – Gloves & Boots
Mail – Belt & Boots
Plate – Bracers & Gloves
You can wear only 5 shards socketed at a time. Socketing 3 shards of the same type will grant you a buff – Rune Word that works, unfortunately, only in Sanctum of Domination, Torghast, and the Maw, and will be idle in other zones. There are three Rune Words.
There is an alternative way of getting Domination Socketed gear outside the raid. Visit the Death's Advance Quartermaster and buy a needed piece for 2000 Stygia. Requires Honored reputation.
Stygian Embers
To upgrade your Shards of Domination you will need Stygian Embers – a new currency in patch 9.1. You may obtain these Embers by killing bosses and certain thrash mobs in the Sanctum of Domination raid on any difficulty and by doing a weekly quest Shaping Fate in Korthia. To update your Shards you'll have to finish chapter 3 of a new storyline and visit Bonesmith Heirmir. This NPC also sells a Soulfire Chisel – an item that can remove a Shard from a socket.
Sanctum of Domination Loot Guide
Now let us take a closer look at the raid loot. Below you will find all the necessary information about all types of loot in the Sanctum of Domination raid.
Mounts
Sylvanas Windrunner drops Vengeance's Reins on Mythic difficulty. The mount has a unique/special animation.
The Nine has a chance to drop Sanctum Gloomcharger's Reins with low chances but on any difficulty. The Hand of Hrestimorak mount may be obtained by any player after completing the Glory of the Dominant Raider achievement.
Pets
The Sanctum of Domination raid has 4 Battle Pets to offer to players.
Armor Models
Raiding sets and weapons usually resemble the main idea and atmosphere of the Raid itself. Concerning the location of the Sanctum of Domination, its sets and weapons look a lot like a Maw fashion show. Take a look at these models: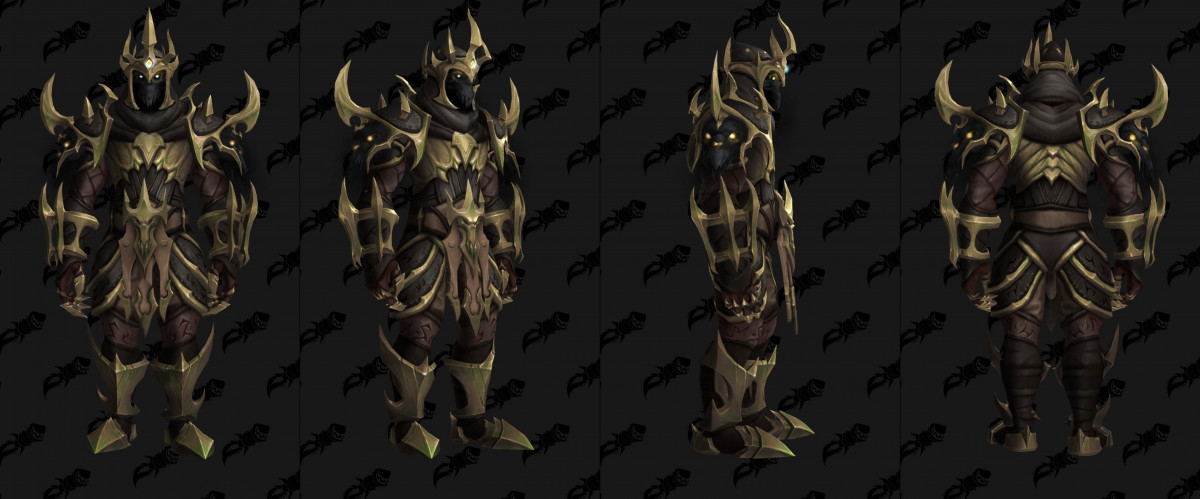 The gear sets look amazing but it will surely take you a couple of months to look like that. We know a faster way – order a Sanctum of Domination full BiS gear run from Epiccarry and get gear according to your selection and a Sanctum of Domination Achievement. We have the most qualified and experienced boosters, who will do their best to make your wishes come true!
Unique Loot
Such an iconic character as Lady Windrunner could not be either an easy or uninteresting boss. The subject under the biggest discussion is, of course, the legendary bow Rae'shalare, Death's Whisper for Hunters that she will (not)-willingly present to a chosen champion with extremely low chances. The bow has several versions regarding the raid difficulty level and can be even upgraded with special items Wraithwisp Sinew and Ethereal Fletching.
Another unique loot is the Dark Ranger's Quiver that also drops from the final boss. This back can be worn by characters of any class, though the unique effect seems to be available only to Hunters.
A Rogues' dagger Edge of Night is another very interesting weapon, presented in the Sylvanas' loot table. The Banshee Queen is not the only one with noticeable loot, however. Kel'thuzad drops Jaithys, the Prison Blade – a two-handed sword that has a unique ability to absorb other weapons in your inventory to increase its power. The more powerful this sword becomes, the worse are its secondary stats though. Fortunately, it's up to a player to decide whether to "eat" other weapons or not. It also whispers to you when eating a weapon.
Accessories
Cloth
And the armor finally. Each table presents each type of armor, which drops in a new raid. We shall start with Cloth.
Leather
Mail
Plate
Trinkets
Weapons