DotA 2 Battle Cup Boost
We will only be able to perform this service if ranked play is unlocked on your account. You have to have a Weekend Battle Cup Ticket on your account.
Introducing our DotA 2 Battle Cup Boost service, designed to help you conquer the weekly amateur tournament and reap the amazing rewards that come with it. With our experienced and professional boosters, you can expect the best possible results in every match. Let's dive into the details of this exceptional service.
DotA 2 Battle Cup Boost Features
A team of professionals: by buying this service, you will get a team of players that will win you a weekly tournament. One member of the team will play on your account;
​Available whenever you need us: our players will play in your account with other boosters to win you the battle cup on Saturday every week;
100% Guarantee: we will win you next week battle cup or issue a full refund if we lose the tournament this week.
Additional Options

Hero Preferences — name up to six heroes and our boosters will use them during your MMR Boost.

Play Offline — we will set your Steam friend list to Offline mode. No one can see that you're online and message you via chat.

Stream — our player will live stream for you on Youtube or Twitch.
Rewards You Get By Winning the Battle Cup
Players who win a tournament will earn:
20,000 shards if you're a Dota Plus subscriber.
A special Battle Cup Trophy and chat badge.
Prestige profile description detailing victories and streaks (for one week).
Seven exclusive emoticons (for one week).
An exclusive Battle Cup effigy.
About DotA 2 Battle Cup

You can get special rewards by competing and winning a weekend tournament. Our Battle Cup boosting service makes it easy for players who don't have the time or team mates required to compete and win. Our professional Dota 2 boosters will log into your account and help you to achieve champion status, earning you all the sweet rewards.
What is DotA 2 Battle Cup Boosting?
DotA 2 Battle Cup Boosting is a service that helps players participate in and win the weekly Tournament event in DotA 2. Our experienced boosters can either play on your account or team up with you to ensure a successful outcome in the tournament. Our service aims to facilitate you with this equally exciting and rewarding experience, while also improving your skills and understanding of the game.
Rewards for Winning a Dota Battle Cup
You get numerous benefits for your account after winning DotA 2 Battle Cups. A battle cup winner gets a ton of Battle Points, which can be used to level up your Battle Pass, exclusive emoticons, a trophy, and a prestigious title for the next week to show off your victory. With our boosting service, you'll have a better chance of claiming these rewards and enjoying the benefits they bring.
What Are the Requirements to Participate in the Competition?
To participate in the weekly amateur tournament, players need a valid Battle Pass and a team of five players. The event occurs every Saturday. Dota Plus subscribers can get an admission for free, all others have to collect five special tickets to enter. Our battle cup service can provide you with skilled teammates or a booster to play on your account, ensuring your team is a strong contender in the competition.
We Provide the Fastest DotA 2 Battle Cup Boosting Service
Our DotA 2 Battle Cup Boosting service is designed to deliver quick and efficient results. With a team of experienced boosters, we guarantee to provide the fastest service possible to help you achieve your desired outcome in the weekly amateur tournament. As soon as you place your order and provide the necessary account details, our boosters will start working on your boosting request, ensuring the absolute best customer experience we're so famous for.
Epiccarry: Safe and Secure DotA 2 Boosting
We understand the importance of account security and privacy. That's why our boosting service adheres to strict safety measures and protocols. Our professional players and boosters use secure methods and VPNs to protect your account from any potential risks. With our boosting services, you can be confident that your account is in good hands.
In conclusion, our DotA 2 Battle Cup Carry service offers an unparalleled gaming experience, ensuring you have the best chance of winning the tournament and claiming fantastic rewards. With a team of skilled professionals and a commitment to fast and secure service, we guarantee a top-quality experience for our customers. So, gear up and let our boosters help you dominate the DotA 2 Battle Cup event!
Once your order is complete, enjoy your new trophy, 20,000 shards, special emoticons, and a nice shiny badge on your profile that says you're a Battle Cup Champion!

Loading...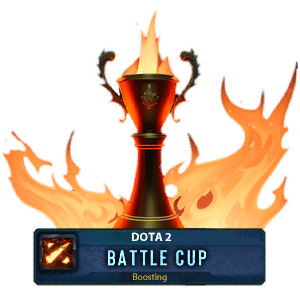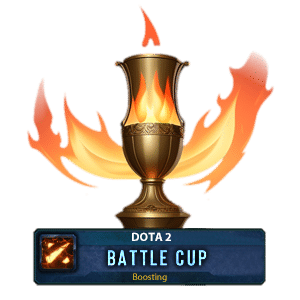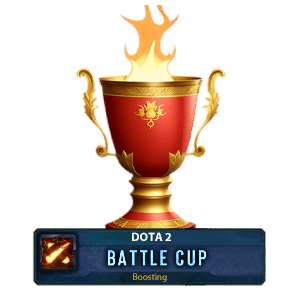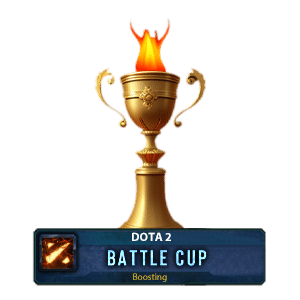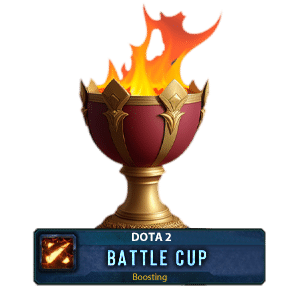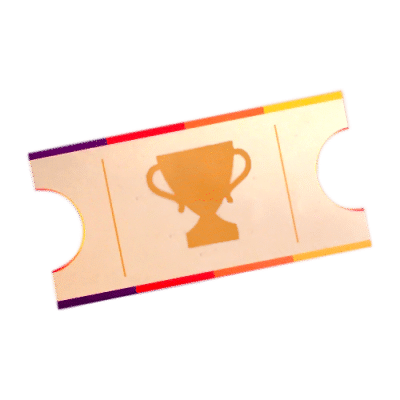 Frequently Asked
Questions
Is My Steam Inventory Safe?
Absolutely. Our DotA 2 boosters are well-trained and professional enough to only focus on their job. Furthermore, Steam guard/authenticator will safeguard your inventory at all times. There is no way someone can take any of your items without access to your phone.
How Long Will It Take To Start My DotA 2 Order?
Once you have purchased, we typically start within 30 mins to an hour. However, some orders might take longer than that if the time is unusual or your Tier is very high/low.
Do I Have to Disable My Steam Guard?
No, you don't. However, we will need a Steam Guard code to log into your account for the first time.
How To Enter The Tournament?
First, make sure that your Dota Plus subscription is active or you have the necessary tickets. Then, find and click "Battle Cup" button in the game client to join: